The Future Scientist – A Conversation with Stephen Jenkinson ~ online
---
October 12, 2022 @ 12:00 pm

-

1:30 pm
The Future Scientist – A conversation between Stephen Jenkinson and Dr. Àlex Gómez-Marín
Wednesday October 12, 2022
9

:00am PDT  | 12:00pm EDT  | 5:00pm BST  |  6:00pm CEST
The session is live and all registered participants will receive the recording.
This event is free and open to everyone. 
A monthly virtual encounter to understand where science is going and to reimagine where (we hope) it might go.
As the Future Scientist series is coming to an end, we do not want to miss the opportunity to be in conversation with Stephen Jenkinson.
Stephen is a poet of non-negotiable truths; a teacher who always talks about the very same ineffable but never says the same thing twice. He is sometimes known as "grief-walker" due to his insistence on avoiding the pervasive absurdity of the current cultural imperative to "die not dying". Life includes everything (also death).
Is science dying? Is dying a deity?
In the face of culture failure, we will discuss a method of inquiry that can reveal (and perhaps heal) our death phobia, grief illiteracy, and amnesia of ancestry. Beyond the current pernicious triad "cope, hope & dope", we will acknowledge our own ectopic ideas and cultural homelessness. Stephen talks about the "death trade", whose biologism and psychologism resonates with the indoctrination of the "scientific trade". Science is the agent, the culprit, and the victim of the restless impulse to globalize everything. We are sold seven paradigm shifts before breakfast – all expensive because they ask so little of us. Subversion too often becomes decoration.
Can we avoid the famous dictum that history repeats itself, first as tragedy, then as farce?
The future scientist shall inhabit (that is, occupy without claiming ownership) an orphan wisdom that may lead to a sort of cultural redemption. Celebrating Leonard Cohen's genius verse, "there is a crack in everything, that's how the light gets in", this is not going to be an easy conversation.
Stephen's allegations are a dark pool of light – a harsh blessing that calls for reckoning and elderhood in a time of trouble for the sciences and for humanity writ large.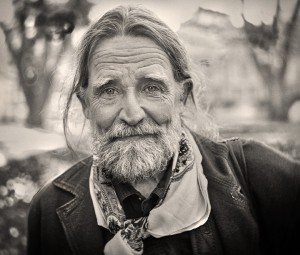 Stephen Jenkinson, MTS, MSW is a worker, author, storyteller, musician and culture activist.
In 2010, he founded Orphan Wisdom, a house for learning skills of deep living and making human culture that are mandatory in endangered, endangering times. It is a redemptive project that comes from where he comes from. It is rooted in knowing history, being claimed by ancestry, working for a time he won't live to see.
When not on the road, he makes books, succumbs to interviews, tends to labours on a small farm, mends broken handles and fences, and bends towards lifeways dictated by the seasons of the boreal borderlands.
In 2016 he and Canadian singer/songwriter and recording artist Gregory Hoskins fused their separate works into an evening of music that is part concert, part poetry, part lamentation, part ribaldry, part lifting the mortal veil and learning the mysteries there. That's what's been performed to sold out houses in Australia, New Zealand, Canada, England, Ireland, Scotland, Wales, Iceland and the USA. The Nights of Grief & Mystery is their devotional act.